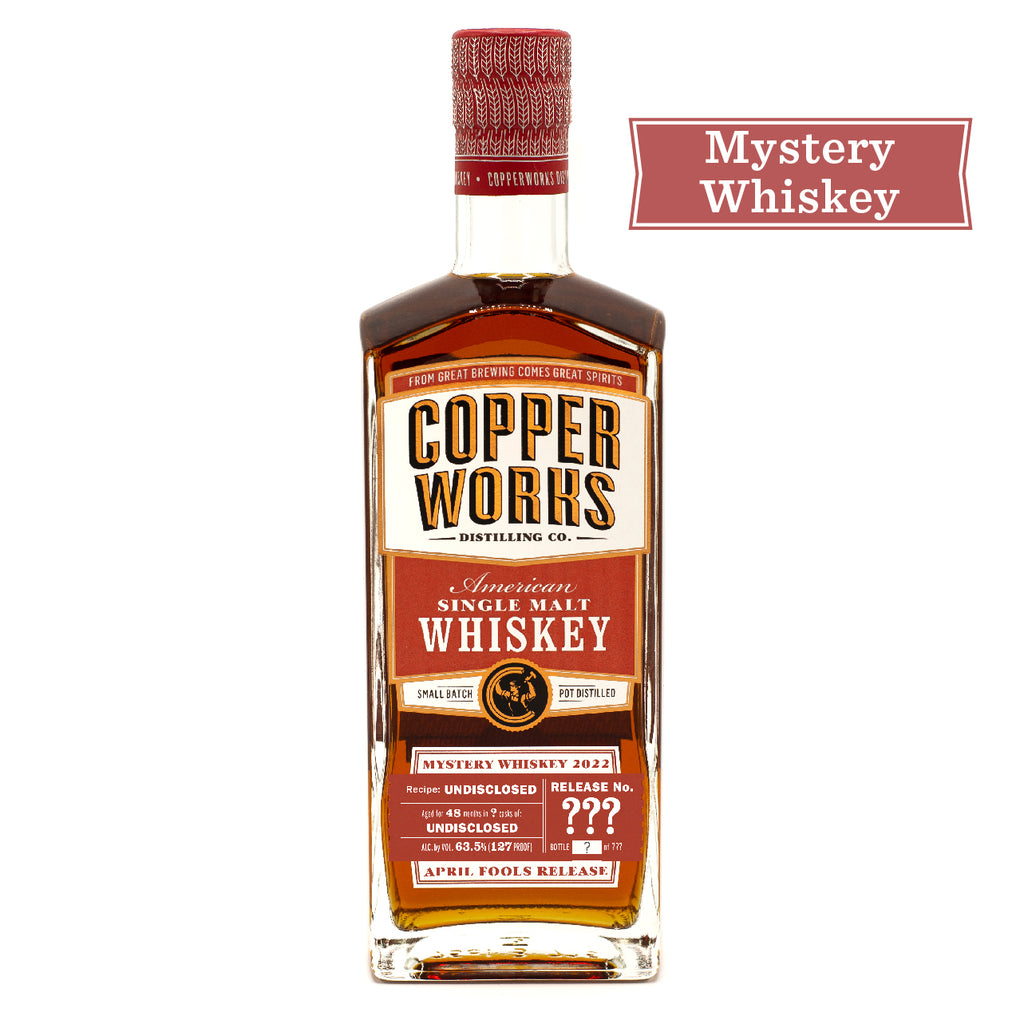 SOLD OUT! Copperworks Mystery Whiskey 2022 (750ml)
>>> We cannot ship Copperworks spirits to these states:
Alabama, Arkansas, Delaware, Illinois, Michigan, Mississippi, Montana, New Hampshire, New York, North Dakota, Oklahoma, Pennsylvania, Rhode Island, South Dakota, Utah, or Virginia.

______________________________________________________________________________________ 
UPDATE: Now that this whiskey is sold out, we are willing to provide the full production specifications and tasting notes.
Tasting Notes: Fruity, peppery, and musky barrel aromas give way to, what is that? Wine and passion fruit? What a mysterious aroma! The flavors are unlike anything we've released so far, yet strangely familiar, with orange rind, more passion fruit, and umami, almost like a full meal--of whiskey! The finish is long, unctuous, and warm with honey, raisins, toasted marshmallow, and caramel apples. Truly a mystery, and impossible to repeat.

----
This April Fools' Day, we've become opaque.
Usually known for extreme transparency, we've created our first-of-its-kind Copperworks Mystery Whiskey – and we're not sharing any further details.

We are information geeks who just love sharing the details of how we make our whiskey. In fact, we publish the full recipe and process for each release we make. But not this time. We thought that this April Fools' Day it'd be fun to poke fun at one of the practices we generally take quite seriously: transparency, and instead adopt the industry's standard level of opacity.

We aren't telling how many bottles this batch has, the variety of malts used, the number or type of casks included, or the age of the whiskey. Nor are we offering up our usual detailed tasting notes. In fact, we aren't divulging much at all ~ except that this whiskey is absolutely delicious.

We expect this latest whiskey to sell out quickly. When it does, we will release all of the details. We can't help ourselves.
Tasting Notes: ???

Limited release of ??? bottles.  
63.5% ABV
750ml bottle
WA Tax Information: 
WA State Address pricing option includes the 20.5% WA State Spirits Tax and $3.77 WA State Spirits Liter Tax ($2.83 for 750ml bottle)
KY Tax Information:
Shipments to Kentucky: 6% KY Sales Tax, 11% KY Wholesale Tax, and $0.38 (per 750ml bottle) KY Excise Tax will be added at checkout.