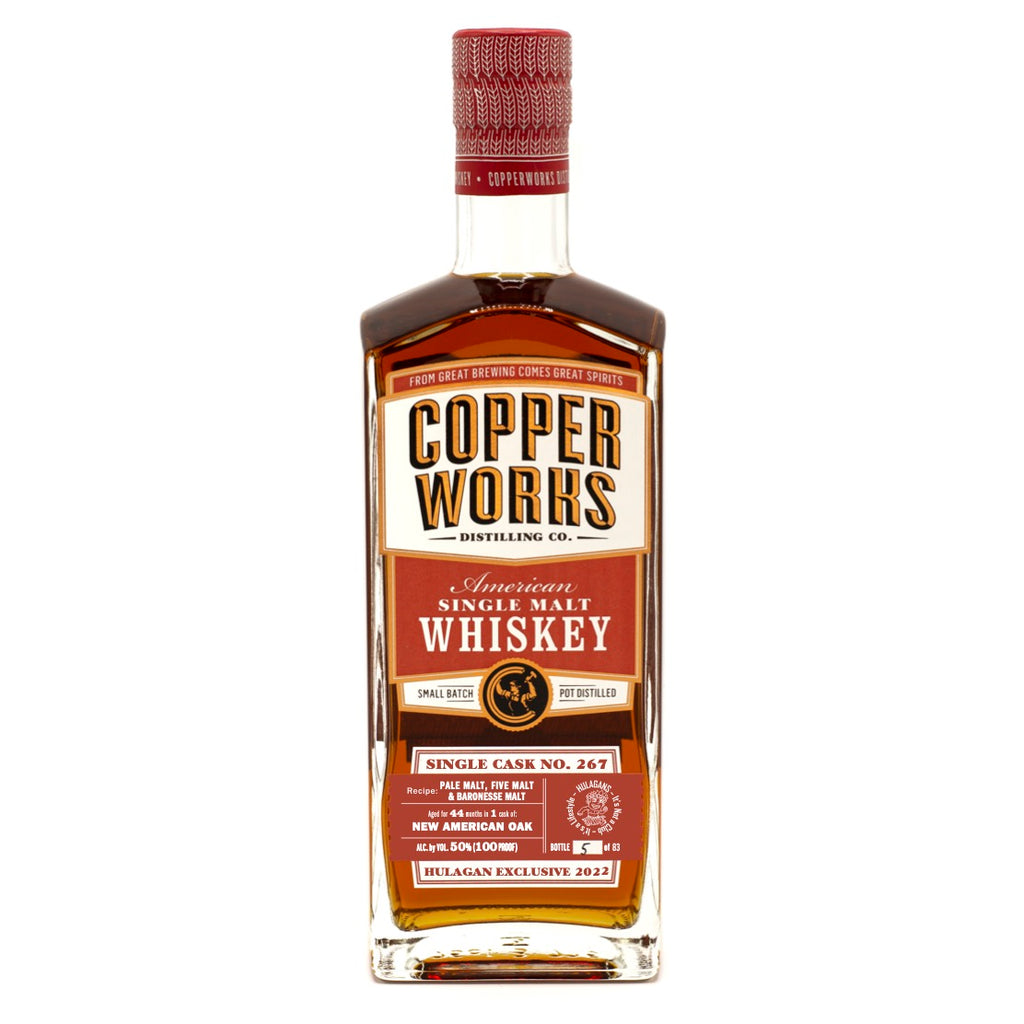 Copperworks Hulagan Exclusive 2022 American Single Malt Whiskey Release (750ml)
>>> We cannot ship Copperworks spirits to these states:
Alabama, Arkansas, Delaware, Illinois, Michigan, Mississippi, Montana, New Hampshire, New York, North Dakota, Oklahoma, Pennsylvania, Rhode Island, South Dakota, Utah, or Virginia.

______________________________________________________________________________________ 
Bottled from a single cask exclusively for the Hulagans, this release comes from something we refer to as a "Queen's Run", which produces the most flavorful whiskey a distillery can produce. We've borrowed this term from the rum industry to describe one of our types of distillation. In our distillation process, we make cuts to separate the heads and tails from the hearts of the run. The hearts are what is matured in casks to create our American Single Malt Whiskey, while the heads and tails must be redistilled, generally with the low wines from the next brew. Every so often, we have enough heads and tails to do a re-distillation that is entirely heads and tails, or the "Queen's Run." The whiskey from this cask was redistilled from the heads and tails of three different recipes: Pale Malt, Five Malt, and Baronesse Malt. It was then matured in a charred new American Oak cask for 44 months and bottled at a strength of 50% ABV. 
Tasting Notes: Aromas of grapefruit rind, candied orange peel, and lime leaf dominate. The flavor features toffee, red tea, roasted pineapple, cinnamon, and licorice, with a lengthy finish of even more fruit and spice. 
50% ABV
750ml bottle
WA Tax Information: 
WA State Address pricing option includes the 20.5% WA State Spirits Tax and $3.77 WA State Spirits Liter Tax ($2.83 for 750ml bottle)
KY Tax Information:
Shipments to Kentucky: 6% KY Sales Tax, 11% KY Wholesale Tax, and $0.38 (per 750ml bottle) KY Excise Tax will be added at checkout.