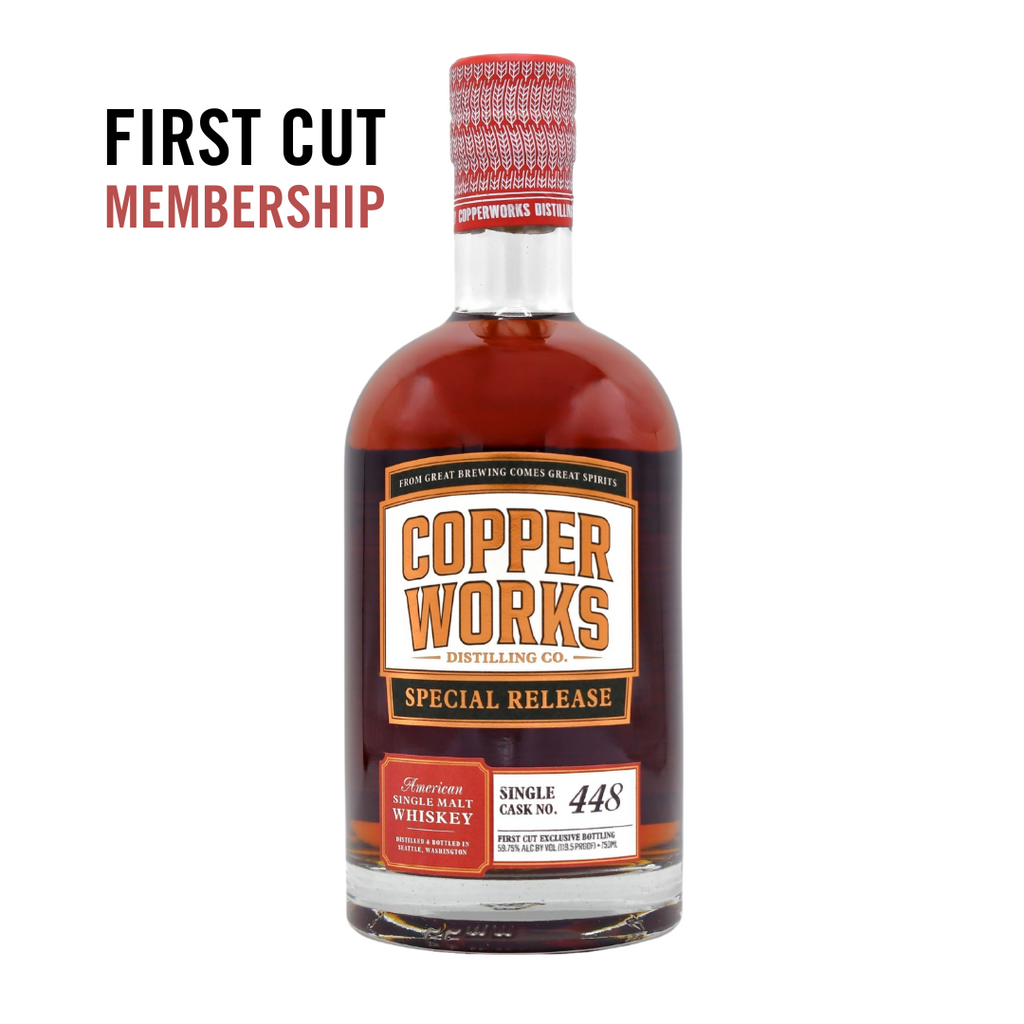 Copperworks First Cut Membership
First Cut members will have the opportunity to purchase all of our special, limited-edition releases before they become available to the public. You will also receive one bottle of a special release of Copperworks American Single Malt Whiskey exclusive to First Cut members.

>>>>  Please note: we cannot ship Copperworks spirits to the following states:
Alabama, Arkansas, Delaware, Illinois, Michigan, Mississippi, Montana, New Hampshire, New York, North Dakota, Oklahoma, Pennsylvania, Rhode Island, South Dakota, Utah, or Virginia.

______________________________________________________________________________________
In 2019, we introduced our First Cut program that gave a limited number of members an exclusive bottling of Copperworks American Single Malt Whiskey and early access to all special releases throughout the year. Since launching this program, we've offered an annual First Cut membership and each time it has sold out. 

Now, we're pleased to introduce the enhanced First Cut! We've kept the fundamental principle (get exclusive and early access) the same while adding some fun perks and more flexibility to the program.
Here's what's staying the same:
You'll receive an exclusive bottle of Copperworks American Single Malt Whiskey that won't be available anywhere else.
You'll also enjoy early access to all special, limited-edition releases* for one year.

One week before a special release is made available to the public, you'll receive a private link to purchase online or in person.

*Special releases are defined as having fewer than 800 bottles
Note: we ship to most states where laws allow. Get details.
Here's what's new:
Memberships are now available year-round! You can purchase a membership anytime and it will be valid through the month of purchase in the following year.

For example, if you purchase a membership on November 10, 2023, your membership will be valid through November 30, 2024.

This is different than the previous First Cut program which ran from January 1 to December 31 each calendar year.

You'll also receive these extra perks during your membership:

50% off spirits tasting flights for you and up to three guests each time you visit our Seattle waterfront and Kenmore locations. 
Opportunity to have your bottles signed by Copperworks Co-Owners and Head Distiller
Priority access to virtual tasting events for each special release
Priority access to bottling parties at our Seattle waterfront distillery
For more details on Copperworks First Cut, please see our FAQ.
Give First Cut as a Gift
Simply put the name and email address of the intended recipient in the "Add special instructions" box on the "Your cart" page of the online store. Please also put the recipient's name and physical address for the Shipping Address.
First Cut Exclusive Bottling: Single Cask No. 448
Single Cask No. 448 was crafted from three varieties of barley: Fritz Vienna, Fritz Pale, and Genie Pale. Only two casks exist with this experimental 3-Malt recipe! The whiskey matured in a new American Oak cask from Kelvin Cooperage, char #2, for just over 3 years. Bottled at cask strength, 59.75% ABV (119.5 Proof).
Tasting Notes: With a deep burnt orange color, Single Cask No. 448 jumps out of the glass with scents of mango, cherry syrup, cookie dough, and orange sorbet. This whiskey is sweet on the palate with flavors of cherry cobbler, cream soda, sweet cinnamon, eucalyptus, and sweet oak. The sweet oak carries through the finish and is joined by Amarena cherry, buttermints, baking spice and vanilla.
---
Restrictions:
Copperworks is able to ship spirits ordered online only to those states which allow it (see

 

shipping info

 

for details). We're not able to ship outside the United States.
If state shipping laws change and Copperworks loses the ability to ship to a customer's state before we've sent the First Cut-exclusive bottle of whiskey, we will refund the entire First Cut purchase price. If the customer has received the exclusive bottle, but shipping laws change and no longer allow shipping of liquor into their state, no refunds will be made.
There's no limit on how many First Cut memberships you can buy, but each membership is limited to one bottle of the special release.
Purchasing First Cut does not guarantee the availability of new releases for advance purchase. Releases are available on a first come, first served basis while supply lasts.
Only bottles of Copperworks spirits can be ordered for in-store pick-up. All other products can be bought while in store picking up your bottle(s).