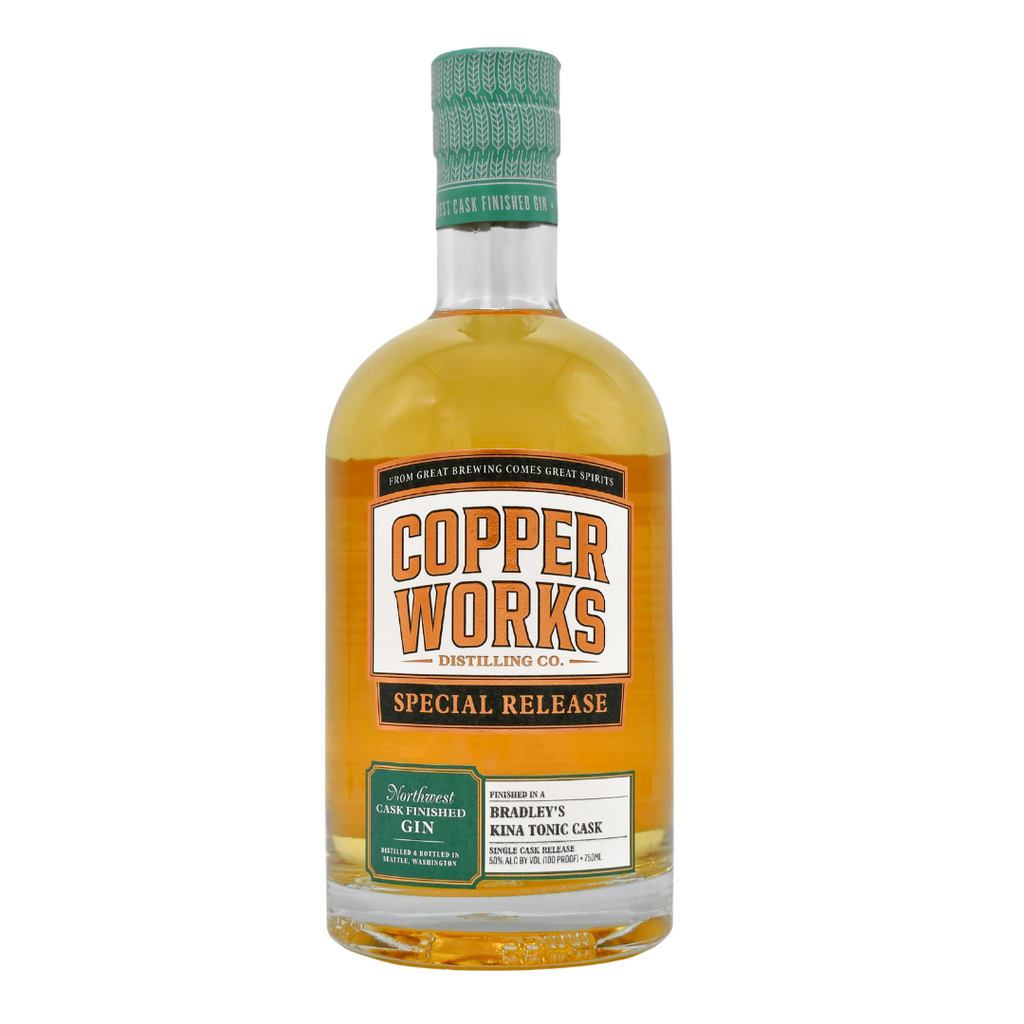 Copperworks Tonic Cask Finished Gin (750 ml)
>>> We cannot ship Copperworks spirits to these states:
Alabama, Arkansas, Delaware, Illinois, Michigan, Mississippi, Montana, New Hampshire, New York, North Dakota, Oklahoma, Pennsylvania, Rhode Island, South Dakota, Utah, or Virginia.
______________________________________________________________________________________
One of our favorite limited-edition gins returns! We're excited to welcome back our ever-popular Tonic Cask Finished Gin.
This cask was originally used to age a Kentucky bourbon, then moved on to age 
Bradley's Kina Tonic
 here in Seattle. Once the tonic was emptied from the cask, we brought it over to Copperworks and added our Small Batch Gin. Five months later, our gin left the cask with a shimmering pale-yellow hue and even more complex flavors.
Tasting notes: Herbaceous and resinous scents assert themselves but are followed by gentle notes of lemon meringue, cinnamon sticks, cedar, and a touch of vanilla and banana. A sweet warmth envelops the palate with a symphony of sugared oak, baking spice, creamsicle, sweet mint and black pepper that softens into the finish. Slow to leave the palate, sweet mint, chinchona bark, and cinnamon linger with an intermingling note of sweet lemon candy.
Limited release of just over 200 bottles.
50% ABV
750ml bottle
WA Tax Information: 
WA State Address pricing option includes the 20.5% WA State Spirits Tax and $3.77 WA State Spirits Liter Tax ($2.83 for 750ml bottle)
KY Tax Information:
Shipments to Kentucky: 6% KY Sales Tax, 11% KY Wholesale Tax, and $0.38 (per 750ml bottle) KY Excise Tax will be added at checkout.