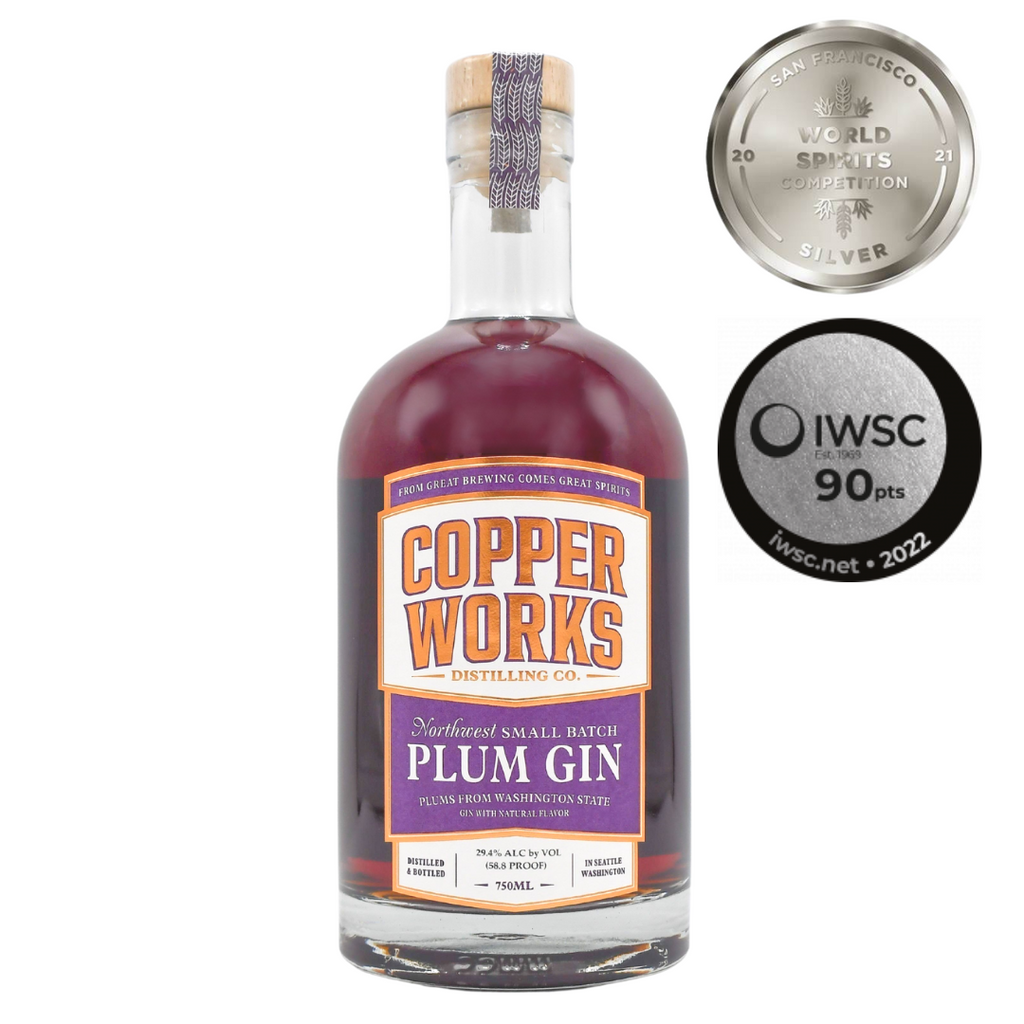 Copperworks Plum Gin (750ml)
 >>  Please Note:  Copperworks cannot ship spirits to the following states:
Alabama, Arkansas, Delaware, Illinois, Michigan, Mississippi, Montana, New Hampshire, New York, North Dakota, Oklahoma, Pennsylvania, Rhode Island, South Dakota, Utah, or Virginia.
______________________________________________________________________________________
For a few years, we received a batch of Italian Prune Plums from Warm Valley Orchard on Orcas Island, WA, owned and worked by Bob and Maria Nutt. Bob is a brother of Micah Nutt, one of the founders of Copperworks. We filled various kinds of barrels with the plums and Copperworks Small Batch Gin and a year later, we would release Copperworks Plum Cask Finished Gin, part of what we call our "Experimental Gin Series."  

The gin was so popular that we decided it should become a part of Copperworks standard lineup of spirits and we intend to offer a new release each summer. It is still very much a handmade agricultural product, so volumes will continue to be somewhat limited. We craft Copperworks Plum Gin by soaking locally grown Italian Prune plums in our Small Batch Gin for approximately nine months.
Tasting Notes: Vibrant on the nose with notes of candied orange peel, almond paste, violet and plum skin. Light and bright on the palate with jammy sweetness and delicate, herbaceous flavors of melon rind, fruit leather, spruce tips and cinnamon. A lingering tartness and light tannins on the finish bring to mind red apple skins and pink peppercorns with a touch of sweetness.

750ml, 29.4% ABV  
Awards:
Silver

 

- 2022 San Francisco World Spirits Competition
90 Points - 2022 International Wine and Spirits Competition
WA Tax Information: 
WA State Address pricing option includes the 20.5% WA State Spirits Tax and $3.77 WA State Spirits Liter Tax ($2.83 for 750ml bottle)
KY Tax Information:
Shipments to Kentucky: 6% KY Sales Tax, 11% KY Wholesale Tax, and $0.38 (per 750ml bottle) KY Excise Tax will be added at checkout.