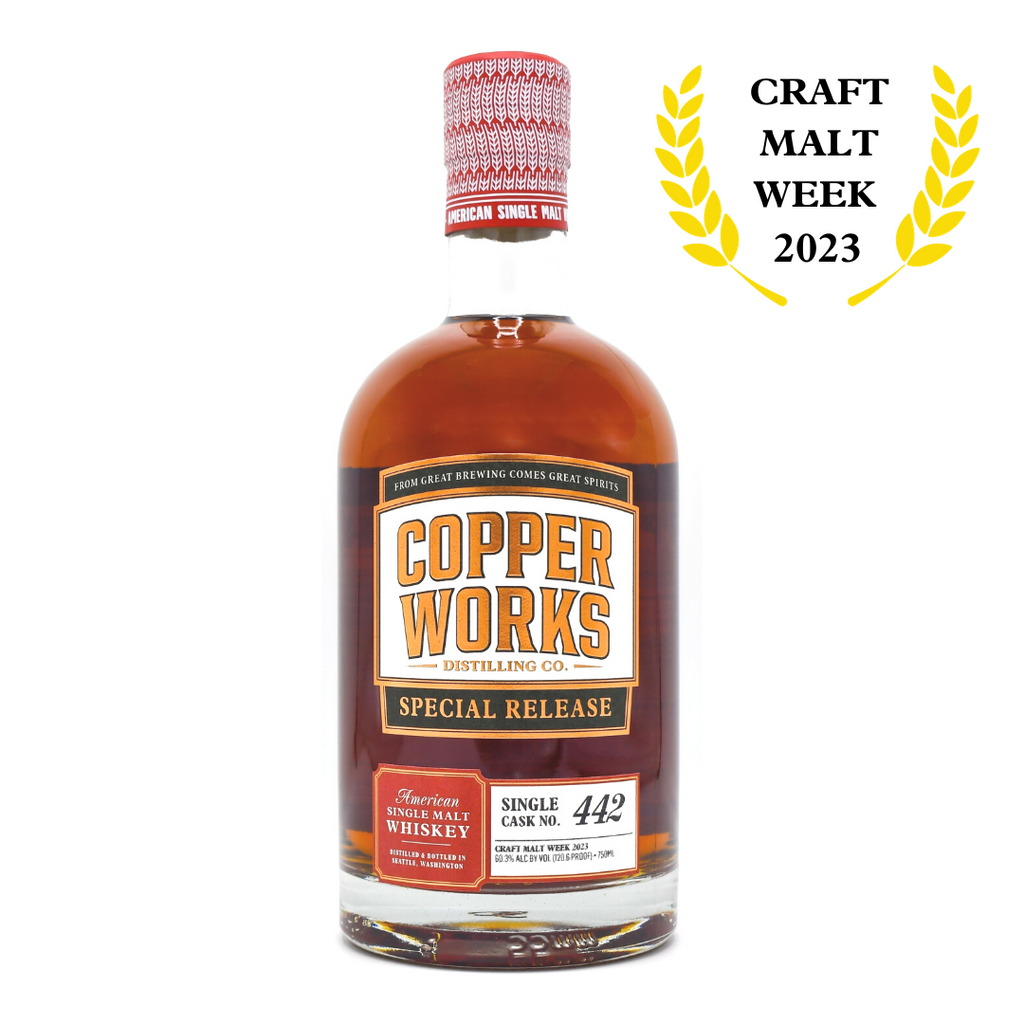 Copperworks American Single Malt Whiskey Single Cask No. 442 (750ml)
>>> We cannot ship Copperworks spirits to these states:
Alabama, Arkansas, Delaware, Illinois, Michigan, Mississippi, Montana, New Hampshire, New York, North Dakota, Oklahoma, Pennsylvania, Rhode Island, South Dakota, Utah, or Virginia.

______________________________________________________________________________________ 
Copperworks American Single Malt Whiskey is created from 100% malted barley and twice-distilled in Scottish copper pot stills. 
This special release commemorates Craft Malt Week 2023 (September 22-29). Presented by the Craft Maltsters Guild, this annual celebration highlights the deep connection between local agriculture and craft beverages.
We're proud to be a Craft Malt Certified™ distillery and play an important role in strengthening our local farming community. So far in 2023, our malt purchases have been 100% craft malt and grown in Washington.
But what exactly does craft malt mean? Three things: small, local, independent.

Small: A craft maltster produces between 5 and 10,000 metric tons of malt annually.
Local: At least 50% of the grain must be sourced within a 500-mile radius of the malthouse. This gives maltsters flexibility in sourcing during bad crop years.
Independent: The malthouse must be independently owned by a 76% or higher majority.
Production Notes:
Single Cask No. 442 was crafted from a barley varietal called Genie grown in Reardan, Washington by Coulee Hite Enterprises. The barley was malted less than an hour away in Spokane Valley, Washington by LINC Malt, a Craft Maltsters Guild member malthouse. The rest of the process (brewing, fermentation, distillation, and maturation) took place in Seattle. This new American Oak cask matured for just over three years before being bottled at cask strength.
Tasting Notes:
Tangerine, damp pine forest, custard and a familiar chewy lingonberry candy on the nose. Sweet orange, matcha, vanilla, oak, butter mints, and bubblegum are harmonious on the palate. The finish is long and sweet with the butter mints fading into wintergreen and rounding out with a touch of grass and red berry jam on toast.
Limited release of only 210 bottles.  
60.3% ABV
750ml bottle
WA Tax Information: 
WA State Address pricing option includes the 20.5% WA State Spirits Tax and $3.77 WA State Spirits Liter Tax ($2.83 for 750ml bottle)
KY Tax Information:
Shipments to Kentucky: 6% KY Sales Tax, 11% KY Wholesale Tax, and $0.38 (per 750ml bottle) KY Excise Tax will be added at checkout.