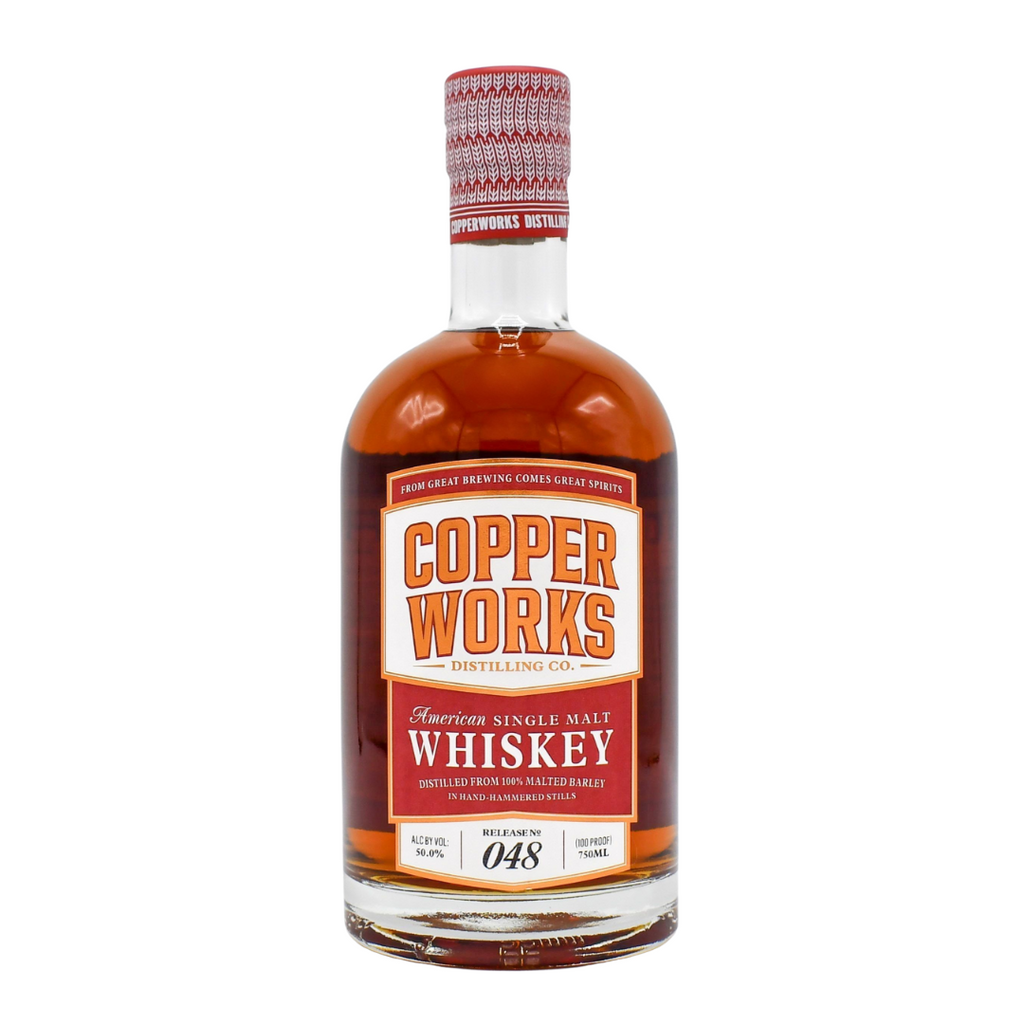 Copperworks American Single Malt Whiskey Release 048 (750ml)
 >>  Please Note:  Copperworks cannot ship spirits to the following states:
Alabama, Arkansas, Delaware, Illinois, Michigan, Mississippi, Montana, New Hampshire, New York, North Dakota, Oklahoma, Pennsylvania, Rhode Island, South Dakota, Utah, or Virginia.
If you live in one of the following states, please order Copperworks spirits from online spirits retailer Shots Box:  Arkansas, Illinois, New York, North Dakota, Oklahoma, or Rhode Island. Buy from Shots Box.

______________________________________________________________________________________
Copperworks American Single Malt Whiskey is created from 100% malted barley and twice-distilled in Scottish copper pot stills. 
Crafted from the same whiskey used in Release 047 with the addition of another Copperworks American Single Malt Whiskey made from pale malt and matured in a Manzanilla sherry cask for five and a half years. The whiskey from this sherry cask accounts for 7.5% of the blend.
Tasting Notes:
The appearance of a translucent orange agate, Release 048 makes a few laps around the flavor wheel and offers a little something for everyone. On the nose: bread pudding, browned butter, finger lime, chocolate, stone fruit and suede. On the palate: fruit leather, pie crust, raspberry, vanilla pipe tobacco and red wine. Rounding out the experience, the finish lingers with notes of dried fruit, pink peppercorn, green tea mochi, and lapsang souchong.
750ml, 50% ABV
WA Tax Information: 
WA State Address pricing option includes the 20.5% WA State Spirits Tax and $3.77 WA State Spirits Liter Tax ($2.83 for 750ml bottle)
KY Tax Information:
Shipments to Kentucky: 6% KY Sales Tax, 11% KY Wholesale Tax, and $0.38 (per 750ml bottle) KY Excise Tax will be added at checkout.